1st biennial conference of the International Network for the Study of Lyric:
"SITUATING LYRIC"
The theory of lyric poetry is at a breakthrough moment: after a period of relative neglect, multiple new models and approaches have been put forth in recent years. Some emphasize basic features and constituents of lyric, others its functions, still others the shifting purposes of the label over time. There is increased interest in the relationship among lyric, poetry more generally, and other literary modalities and genres. At the same time, these new theoretical interventions are not consistently in conversation with each other, especially across national or linguistic lines. It is time to bring together scholars who are working toward a new understanding of the theoretical situation of lyric and poetry. Boston University with its rich traditions of literary study is an ideal place to ask this question with respect to the situation of both "lyric" and "poetry" in literary history, in world literature, and in other arenas of language use and art.
Arbeitstreffen 1 des DFG-Netzwerks "Lyrikologie. Konturen eines Arbeitsfeldes" (Wuppertal): Typisch lyrisch?
24./25. November 2016
http://www.glw.uni-jena.de/Netzwerk+_Lyrikologie_+Konturen+eines+Forschungsfeldes_.html
Gäste: Dr. Sophia Wege (Germanistik, Halle-Wittenberg), Prof. Dr. Alexander Ziem (Linguistik, Düsseldorf)
Dieser Workshop geht der Frage nach, ob und inwiefern es möglich ist Spezifika lyrischer Gebilde zu benennen, die ein eigenständiges Forschungsfeld ,Lyrikologie' begründen können. Ausgehend von Vorschlägen der neueren Lyriktheorie sollen hier insbesondere prototypensemantische und anthropologisch fundierte Ansätze auf ihr Potenzial für eine systematisch ausgerichtete Gattungstheorie der Lyrik befragt werden. Dieser Workshop leistet damit lyrikologische Grundlegungsarbeit und dient der theoretischen Fundierung der folgenden Netzwerkaktivitäten. Die beiden Gäste nehmen aus Sicht der kognitiven Linguistik und Literaturwissenschaft konstruktiv-kritisch zu gattungstheoretischen Fragen mit Bezug auf eine Lyrikdefinition Stellung. Programm: http://www.glw.uni-jena.de/iglmedia/Netzwerk/Programm_Netzwerktreffen1_Typischlyrisch_.pdf
ICLA-Panel
"Wer spricht das Gedicht?"
at 21st  World congress of the International Comparative Literature Association
by Dr. Claudia Hillebrandt, Dr. Sonja Klimek and Prof. Dr. Eva Zettelmann
Mittwoch, den 27. Juli, um 9.00-10.30 Uhr
Wednesday, July 27th 17254 – Wer spricht im Gedicht?
Room: Übungsraum Germanistik 1
Chair: Klimek, Sonja
9:00 AM – The Voice in the Poem: Triggering Specificity, Performing Embodiedness Zettelmann, Eva (Institut für Anglistik und Amerikanistik, Wien, Austria)
9:15 AM – Figur und Person in lyrischen Gebilden Hillebrandt, Claudia (Universität Jena, Jena, Germany)
9:30 AM – Der Publikationskontext in der Lyrikrezeption Syrovy, Daniel (Institut für Europäische und Vergleichende Sprach- und Literaturwissenschaft, Wien, Austria)
9:45 AM – Poetin und Gegenstand der Poesie: Die Stimme der Margaretha Susanna von Kuntsch (1651-1717) Pailer, Gaby (University of British Columbia, Vancouver B.C., Canada)
10:00 AM – Autorschaft und Peritext – Werkpolitische Lenkung der Sprechinstanzen von Ich-Gedichten Klimek, Sonja (Universität Freiburg/CH, Freiburg, Switzerland)
Lecture: by Jonathan D. Culler on Theory of the Lyric in Lausanne and Fribourg:
At Fribourg University, the lecture will take place at Miséricorde in Auditorium A (Av. de l'Europe 20) on April 5, 2016,  from 10h15-11h45.
At Lausanne University, the lecture will take place at Unil-Dorigny, in Internef 231 on April 6, 2016, from 13h15-14h45.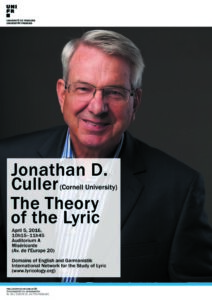 Workshop "Wer spricht im Gedicht?" ("Who Speaks in the Poem?")
on issues of voice, persona, identity and writing in lyric poetry. Held in Fribourg/Switzerland on October 15–17, 2015. (Programme)